Product Details:
Product ID:
4CJYQA2W8H
Material:
woolen fabric
Style:
Commute
Theme:
Pattern:
Lattice
Silhouette:

H-Line
Sleeve Type:
Long Sleeves
Collar:
Lapel
Length:
Regular
Thickness:
Medium Thickness
Elasticity:
Micro-Elasticity
Edition type:
Fit
Season:
Autumn Winter
Size
Bust
Length
Sleeve Length
Shoulder
Recommended weight
cm
inch
cm
inch
cm
inch
cm
inch
Kg
M
122
48.03
59
23.23
53
20.9
40
15.75
45-52.5
L
126
49.61
60
23.62
54
21.3
41
16.14
52.5-57.5
XL
130
51.18
61
24.02
55
21.7
42
16.54
57.5-65
2XL
134
52.76
62
24.41
56
22.0
43
16.93
65-72.5
Note: The size chart is the actual size of the product. Please read the size chart and recommended weight carefully before placing an order for a good shopping experience.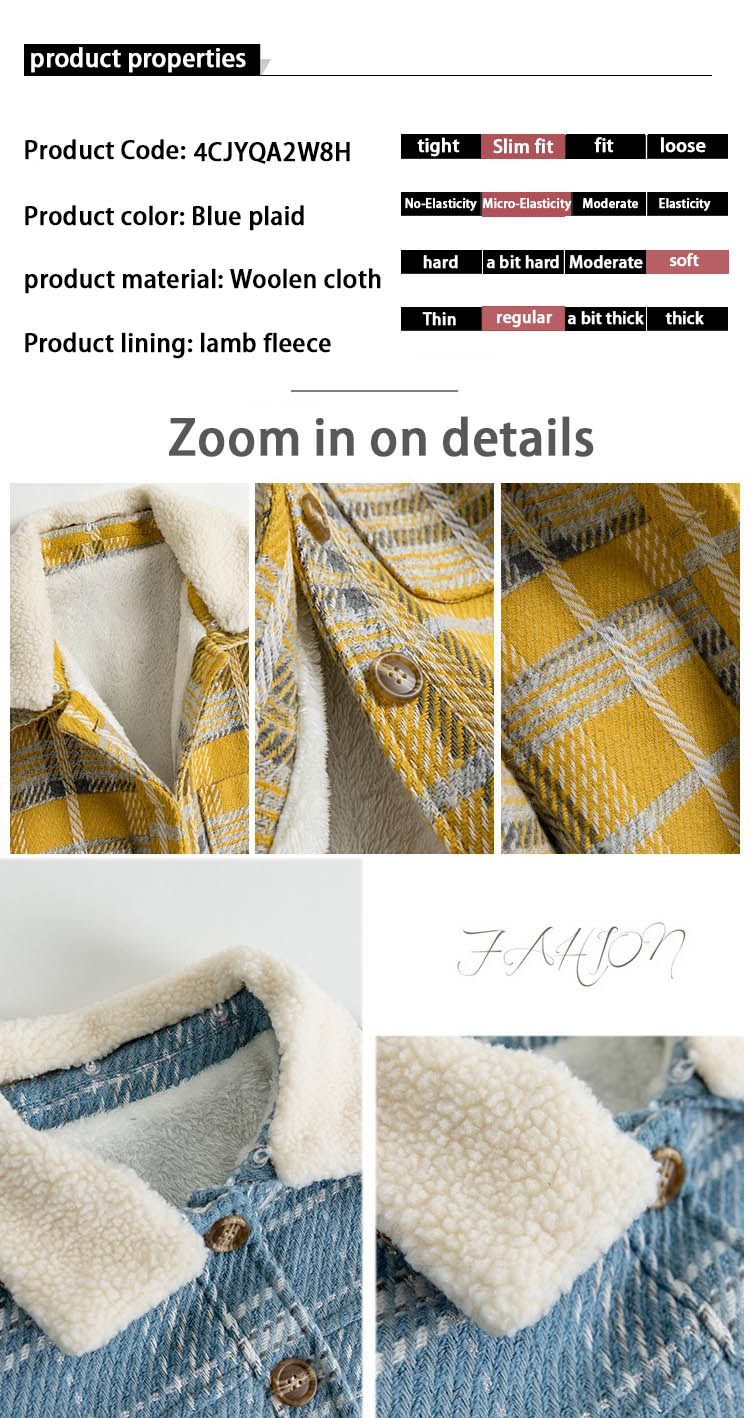 Returns Policy
If you've ordered the wrong size or have any other issue, you can always exchange or return your order. so long as Your items are unworn, undamaged, in re-sellable condition (i.e. no creases or wear on soles), and in their original packaging. Your return request is submitted within 30 days of receiving your original order.
Shipping
Processing time: order verification, quality check and packaging. All orders are sent to the fulfillment center for shipping within 3-10 business days of order placement.
US/CA/UK/FR/DE/AU/PO: Standard Shipping ( 10-15 business days) : $8.99 Free Over $69.00; Expedited Shipping ( 8-10 business days) : $12.99 Free Over $69.00
IT/SP/North of EU: Standard Shipping ( 10-18 business days) : $8.99 - Free Over $69.00; Expedited Shipping ( 8-12 business days) : $12.99 - Free Over $69.00
Rest of World: Standard Shipping ( 15-25 business days) : $8.99 - Free Over $69.00
Please Note: Receiving time = Processing time + Shipping time (there may be a little delay due to the impact of COVID-19)
Use the recommended amount of a premium detergent for delicate articles.
Silk articles need to be washed separately because they have a lower colorfastness than other fabrics.
Hand washing is recommended for delicate items such as lace, lingerie, wool, silk or very dark colors that may fade. Use lukewarm or cold water under 30°C and squeeze out excess water gently. turn clothes inside out when hanging up and do not dry them in full sunlight.
The clothes should be at least 75% dry before ironing. Iron at a temperature range of 100°C to 180°C depending on the fabric.
The steam setting should be high since ironing silk requires a lot of moisture. After the silk is lightly misted with water, it should be placed face down on the ironing board and be covered with a press cloth.
To preserve your leather clothes, it is advisable to clean them by hand washing or dry cleaning.